Extraordinary source of inspiration for fashion operators, aspiring designers and precious reference book for fashion schools, sewing courses, dressmakers and passionate sewers, Marfy magazine-catalog features both Spring/Summer and Autumn/Winter creations.
The Evergreen editions are collections in special issue divided by theme: the first edition is dedicated to the easiest and lightest garments such as blouses, skirts and sheath dresses, while the second edition to the most structured and elegant garments such as evening dresses, jackets and coats.
Printed on large format 24 x 34 cm ( 9 ½ x 13 ⅜ inches) glossy 130 g paper, our catalogue is 1 cm thick (⅜ inch) and weighs more than 1 kg (2.4 lbs).
You will find no adverts on its pages – just 200 pages of pure creativity!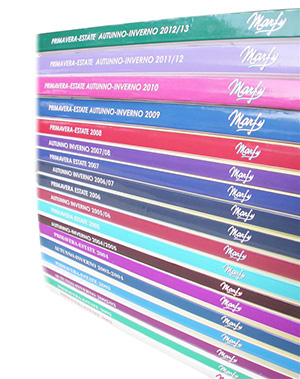 In each catalog you can count on 250 fashion creations for the Spring/Summer and Fall/Winter collection. Many of the designs are suitable for both seasons, giving you an interchangeable wardrobe that will last all year round. In the Marfy Evergreen special editions the creations are nearly 400 for each issue.
Each design features a full-page image that shows every detail of the garment clearly – including the cuts, the darts and much, much more. The garments are shown from both the front and the back, so that its construction is easy to understand, and to serve as a reference while you are making it in fabric.
Furthermore, the Marfy catalogue contains free patterns in 5 sizes, all new designs suitable for every type of wardrobe. These patterns alone make it worth investing in the catalogue – you only have to think how much they would cost to buy separately!
They will also give you the opportunity to try out our patterns, to understand what they look like, how easy to follow the instructions are, and which size will be right for you. You will be amazed by the wearabilty of our garments – the fruit of our extensive research, talent and expertise. Our clothes will speak louder than a thousand words – the dress, the coat, and especially the jacket. Admire how its grain line hangs, its beautiful proportions, its balanced shape and its perfectly fitting drapes.
Remember that the free models that come with the magazine are printed in several sizes, and will need to be traced onto pattern paper before you can cut them out of fabric, unlike our individual patterns, which you can buy ready cut and just the right size. For more information, and to see what our ready-cut patterns look like, click here.
The patterns in every collection remain on sale for years after their publication, and even afterwards while stocks last. This way, your catalogue will have a long and fruitful life – another reason why it is so robust – and you will always be able to choose from among over 1600 designs! What's more, our designs are so trendy that they often even pre-empt the fashion world, so it is always best to have more than one collection on hand…
The Bridal Catalogue is a unique special edition that is not issued on a regular basis. The first edition came out in 1996, and was the first of its kind in Italy. It was so successful that we are now on the third collection – meaning that over 770 designs have contributed to making the happiest day of the lives of thousands of blushing brides unique. The latest edition has 235 pages (24 x 31.5 cm format) and features 200 exclusive bridal gown designs, as well as photographs of the finished dresses and an extra section dedicated to accessories, bridesmaids dresses and first communion outfits, not to mention editorials on bridal gowns and veils, and useful advice on fabric, trim, decorations and the art of tailoring.