1966 MARFY IS FOUNDED
COLLECTIONS OF HIGH FASHION,
PATTERNS FOR HAUTE COUTURE.
Our design studio was founded as support for those who love to sew, bespoke dressmakers, fashion schools and for those working in the field of fashion. Besides style and design, our customers found something more: Marfy's careful, skillfully created patterns.
Instead of printing patterns in several superimposed sizes that have to be traced out by hand, our onionskin paper patterns are totally hand made, cut individually for each size. They can be placed directly on the fabric, ready for cutting.
This true craftsmanship lets you save precious time, avoids useless time-consuming operations, and leaves you free to enjoy the true pleasure of sewing.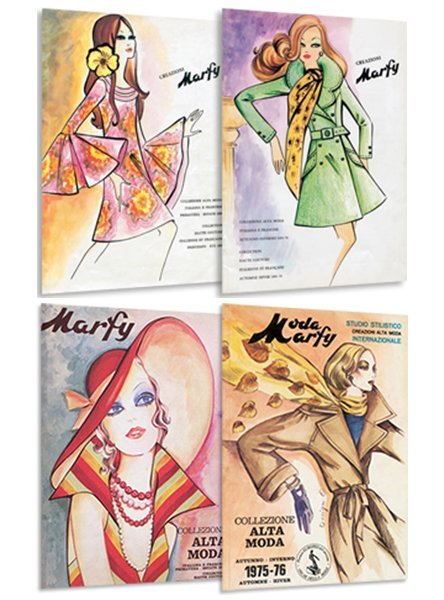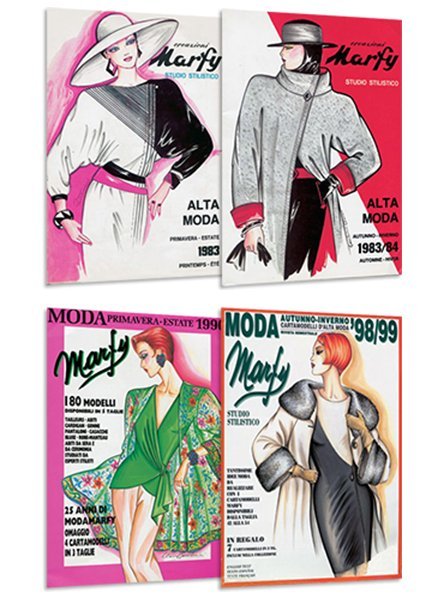 THE MARFY EVOLUTION:
FROM A STUDIO TO A COMPANY…
WITH THE SAME STYLE.
We believed in this and have continued working with a passion. We have expanded our company without in any way modifying the craftsmanship and care we take in our products.
Since the first experimental edition in 1966 we have grown, producing more than 90 collections always totally new. We have created 20,000 creations and sold millions of patterns, and have become the Italian leader in the field.
Now, along with our creativity, professionalism and unmistakable elegance, we are exporting our style and patterns throughout the world.
Creativity, professionalism, love of beauty and state-of-the-art workmanship are all part of our philosophy which has remained intact since the very beginning. We have received the Oscar for Fashion -the European Success Award- but, above all, we have won over thousands of customers: tailors, dressmakers, and all those who love to sew. They are or faithful following, highly appreciating our unceasing commitment.
Our company owes its name to the Duchessa Marfisa D'Este (1554-1608), woman of great importance and charm, the daughter of Francesco D'Este, Lord of Ferrara and favorite son of Duke Alfonso I and Lucretia Borgia.
A beautiful, cultured and refined woman, she kindled the attention of the noblemen, gentlemen and poets including Torquato Tasso who was a guest at her home in Medelana.
Ferrara knew a period of utmost splendor with Marfisa who loved her city so much that she refused to leave it, even after her family moved to Modena in 1598 when Ferrara passed into the hands of the Papal Legation.
The splendid building where she wished to live still bears her name.